90% of the course is tarmac.
The last 11km is extremly steep climb.
The finish – peak Jested 1012m.
Mandatory head light.
---
From the T2 at the resort Malevil you'll follow the signs.
The finish point the iconic peak of Jested is visible almost from all of the run part even at night.
The 9O% of the course is tarmac but on the first 12km there are 3 short parts leading you on the soft surface.
There is a new change direction between 8 – 11KM in Jablonné v Podještědí. You will not be able to meet your support car during 8-11km. Support cars will meet you near the castle Lemberk /11km again.  All for the reason of your safety and avoidance the high traffic.
The last 11km is extremly steep climb to the finish….
The highest point of the Winterman peak Jested 1012m above the sea level.
There will be a medical check point at the 32km – it is also only time limit –  10:30pm!!!
From 5pm every athlete must wear a front head lamp and flashing reflective arm band provided the by organizer.
Those two items are mandatory.
To the finish is not possible to go by a car. You must go last 1km with you Support on foot! The last car park is on 42km.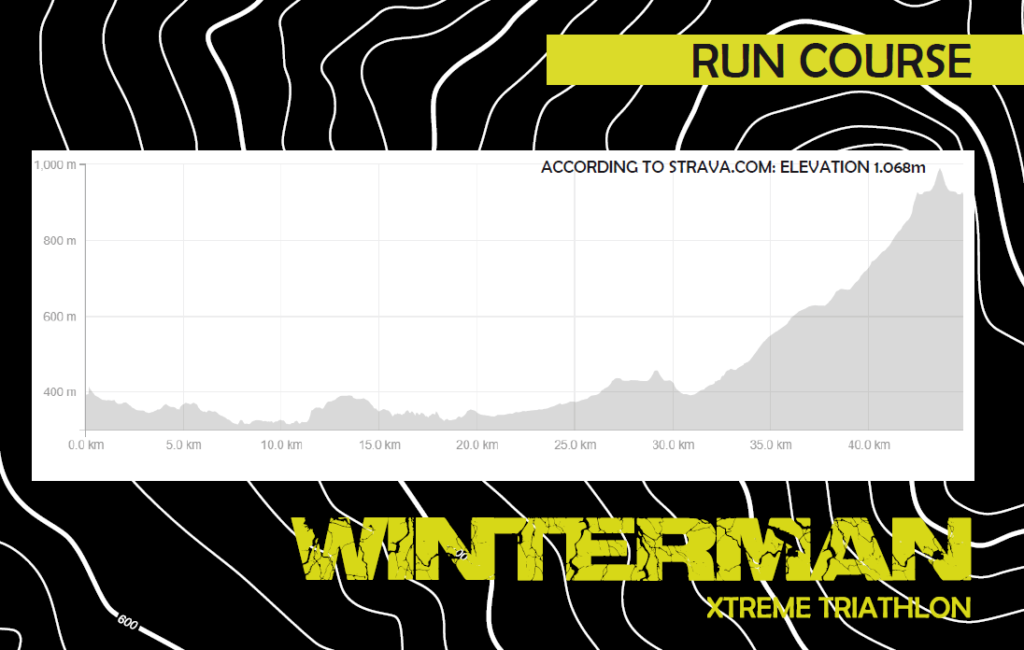 MAP DETAIL:
T2 – MALEVIL, Heřmanice v Podještědí, Jablonné v Podještědí, Lvová, Janovice v Podještědí, Dubnice, Žibřidice, Křižany, Druzcov,
Janův Důl – 32Km – TIME DEADLINE 22:30, Rozstání, Hodky, Hoření Paseky, Ještěd 43Km – RACE DEADLINE 00:30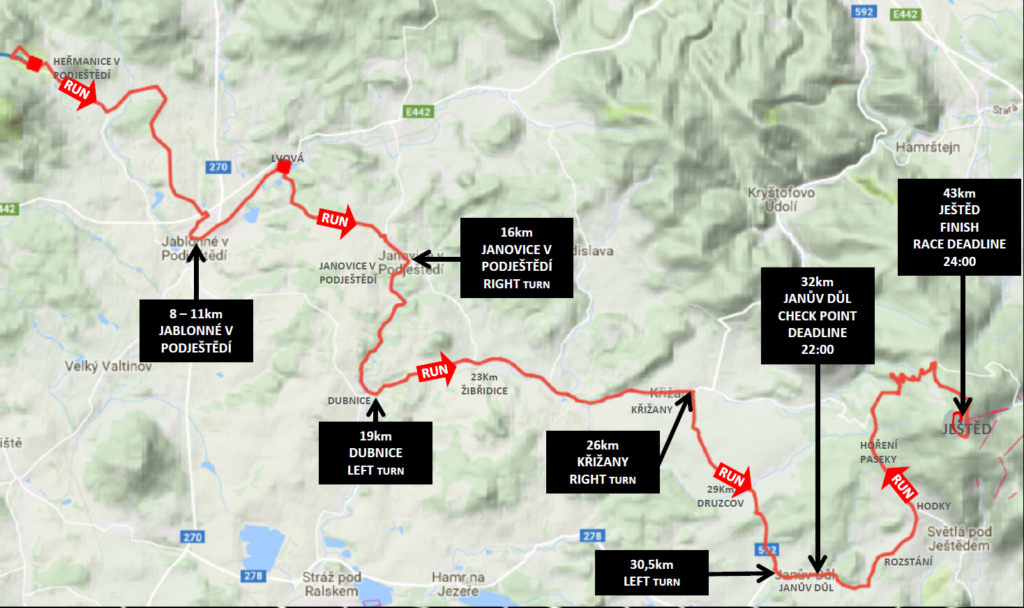 MAP DETAIL (0-8km):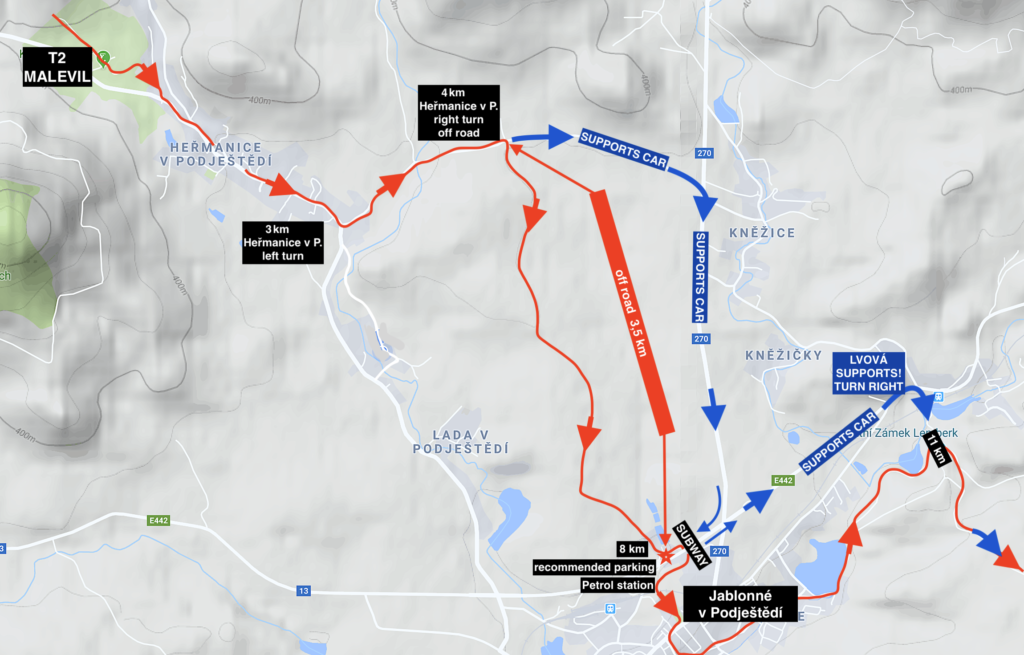 MAP DETAIL (8km):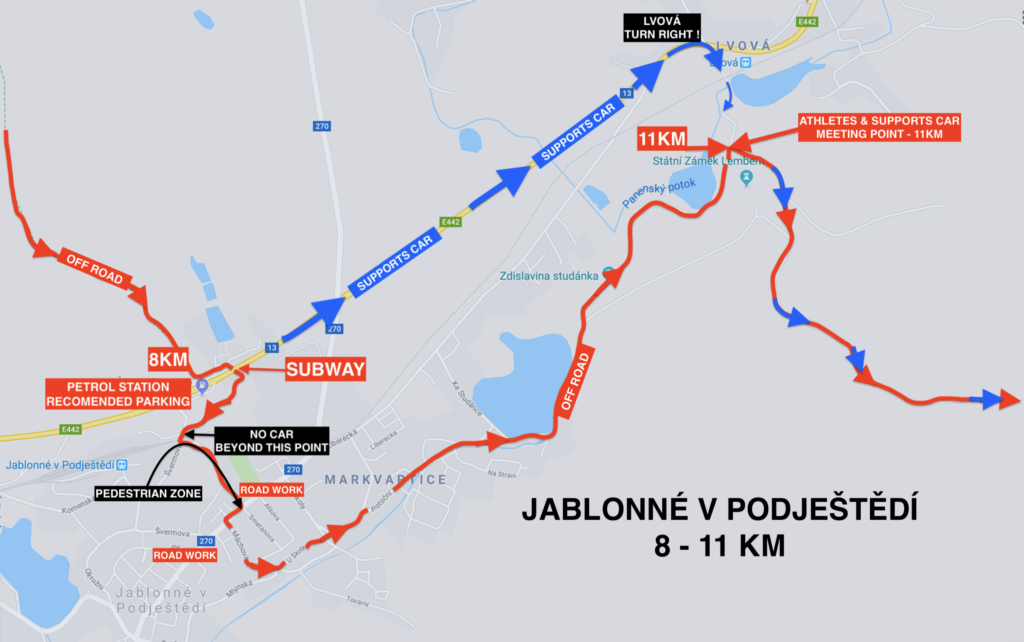 MAP DETAIL(8-11km):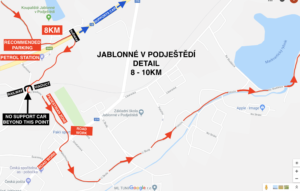 MAP DETAIL (32km – 43km):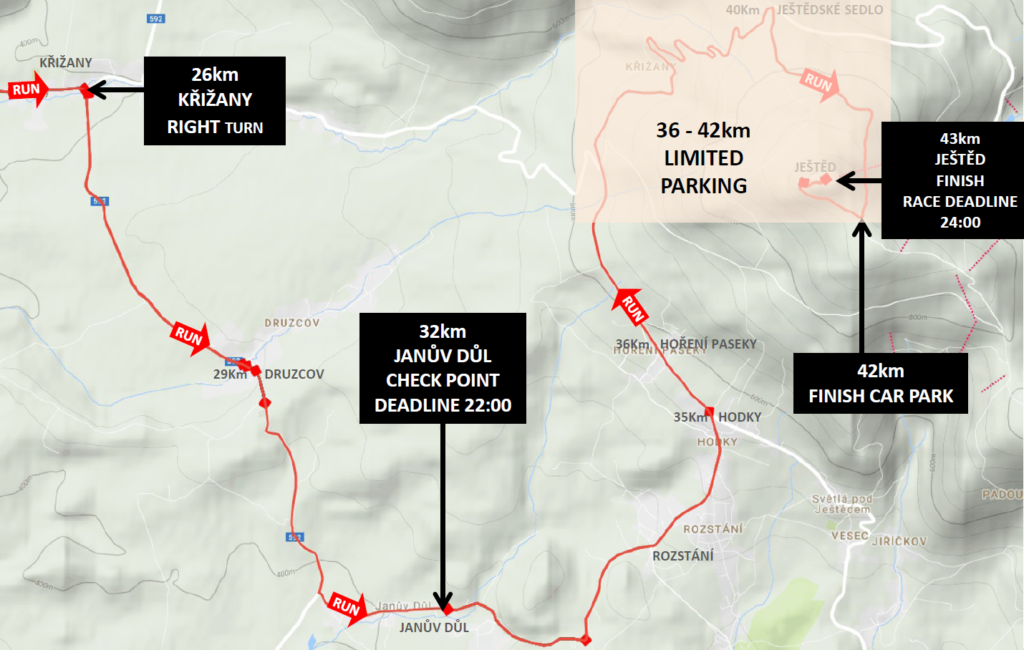 MAP DETAIL (FINISH 43km):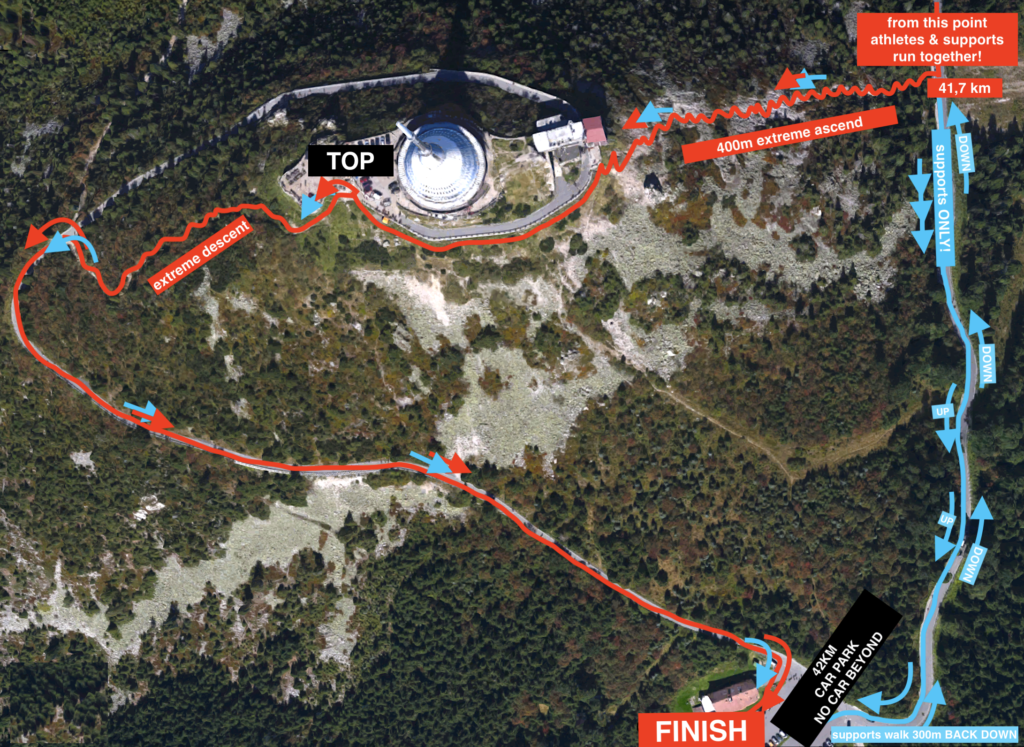 Signs and orientation during the race:
The course is primary signed by an arrow with WM placed on vertical road signs – direction indicator
Every important and radical change of direction is signed with an arrow with WM / vertical road signs – direction indicator
Every turn off the main road is signed before the junction with an arrow with WM / vertical road signs – direction indicator
Every turn off the main road is signed behind the junction with a straight arrow with WM / vertical road signs – direction indicator
The route is signed along all its length with arrows with WM
 Arrow is placed on a "High road" road sign
  Arrow is always placed on a "Stop" road sign
  Arrow is always placed on a vertical road signs "direction indicator left, right or straight"
  Arrow is always placed on a road sign at the "beginning or end of a municipality" /name of village or city/
  Arrow is always placed on the places with difficult orientation
  Arrow is placed on a long stretches without any turns
Several very unclear junctions are marked with a red cross over the WM arrow on the wrong exit
 RESPECTING TRAFFIC REGULATIONS
You race in full traffic and you are a road user
It is absolutely necessary to obey traffic rules
Athlete is not excluded from traffic rules and does not take precedence over the others
Support is not allowed to stop other cars to help a ride of their athlete
Support car must park by all four wheels off the road or off the white side line only! Violence of this rule will cause the 10minutes penalty in T2
or in 32Km CHECK POINT. Duplicated violence of this rule will cause immediate disqualification
It is prohibited to get over railway crossing if there is a red light on or you hear an audio alert, you must stop your car and wait until the train passes
Those are the conditions of the race. If anyone – athletes or support teams – violates this regulation, he/she will be immediately disqualified