REGISTRACE WM 2023
je otevřena do
01. 09. 2023
LIMIT JE 100 STARTOVNÍCH SLOTŮ
plus 5 charitativních slotů pro štafety
Těšíme se na Vás
A níže je pár reakcí od účastníků:
I just want to write to thank you both and all the rest of the Winterman team for putting on a fantastic event in very difficult circumstances. I absolutely loved it.
I have now done 21 long distance/extreme triathlon races including Norseman, Swissman, Celtman, Austria Extreme, Swedeman, Patagonman etc.  and  this was one of the most enjoyable and quite probably the best organised of all of them – although a team at Austria were also fabulous 😉      
Your marshalls were brilliant and super-friendly and the signage was unbelievably good.
The swim was great fun. I loved the bike –  particularly once the fog lifted.  The run was lovely – I particularly enjoyed the trail and Jested parts.  
To arrange such a glorious sunset for the finish was truly unbelievable
😉
Thank you so much/ Děkuji mnohokrát  and please pass on my thanks to all those who helped – they were brilliant! 
Thank you so much!
Tears and shivers… You did an amazing job!
Ciao, Renato
Hello Winterman,
We would like to thank you for the great organization of the Winterman 2020 in these difficult times.  Thanks to you all we have enjoyed a great race in the beautiful scenery of the Czech Republic.  Perfect organisation and I will recommend the race to others.  Thank you also for the quick response to all our questions we had during the preparation.
---
Wintermani pro Dětské Kardiocentrum
Nedílnou součástí Wintermana je přímá podpora Dětského kardiocentra FN Motol.
V 8. ročníku vítězný David Jílek společně s organizátory předali prize money a výtěžek ze startovného štafet v podobě šeku na 100.000 Kč profesoru Václavu Chaloupeckému.
Bez Kardiocentra v Motole by myšlenka Wintermana nevznikla a nám bylo velikou ctí, že si na nás pan profesor Chaloupecký opět udělal čas," prohlásila v cíli Daniela Pešková, která Wintermana spolu se svým mužem Vláďou a týmem dobrovolníků od počátku organizuje. Díky velkorysosti vítězů i všech startujících daroval Winterman Xtreme Triatlon Kardiocentru za posledních 8 let už 920.000Kč korun.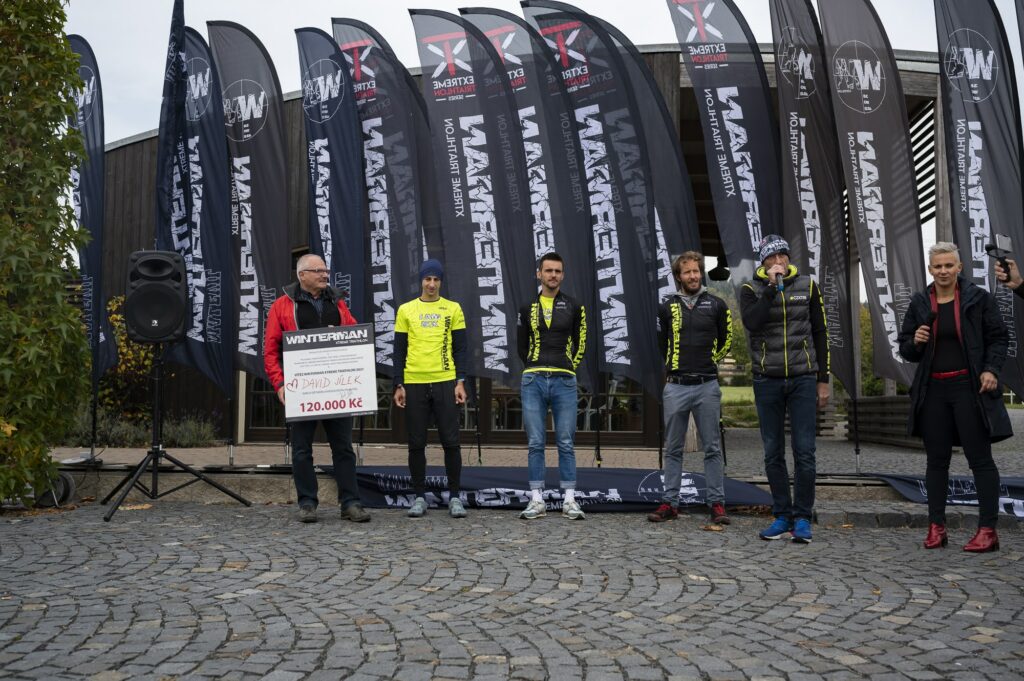 ——————————————————————————

Je nám potěšením mít jako partnera Winterman Xtreme Triatlonu předního evropského výrobce sportovní výživy s celosvětovým působením –NUTREND ENDURANCE.
Produkty Nutrendu obsahující vše potřebné pro dokonalý průběh závodu i trénink, dle doporučení Petra Vabrouška
Více:https://www.nutrend.cz/endurance-sports/c2/
———————————————————-

Je nám obrovským potěšením mít jako hlavního partnera závodu WINTERMAN XTREME TRIATHLON společnost ATEX SPORTSWEAR, která se od roku 2017 stala dlouhodobým partnerem závodu a stará se tak svými funkčními oděvy o komfort závodníků. Závodníci se tak jako každý rok můžou i letos těšit na finisherské překvapení v podobě funkčního oblečení. Letos pod značkou ATEX  s unikátním designem závodu!
Děkujeme společnosti ATEX za podporu – http://www.atexsport.cz/
———————————————————
SLEDUJTE NÁŠ FACEBOOK:
https://www.facebook.com/czxtri
MŮŽETE NÁS NAJÍT TAKÉ NA K226: